Spanish affair (Ocho apellidos vascos)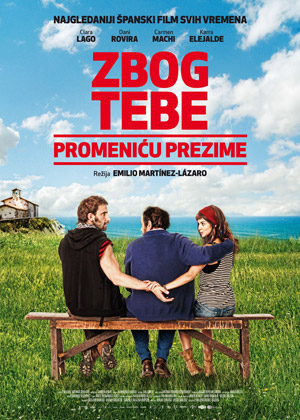 Director : Emilio Martinez Lazaro
Screenplay: Borja Cobeaga, Diego San José
Cast: Dani Rovira, Clara Lago, Karra Elejade, Alberto Lopez, Carmen Machi
Genre: romantic comedy
Start in Serbia: 03.09.2014.
Duration: 98 min
Distribution: Dexin film
Synopsis
The most watched film of all time in Spain!
Hollywood Reporter: Film that must see!
Box office : Top Spanish film of all time in six weeks, showing earnings of 73 million dollars in Spain.
What we 're capable of in order to win someone who's a lot like? Would you change your personal identity, your name and hometown, to convince someone that you are the right person for her or care... ?
Rafa (Dani Rovira) is a guy from Seville, who are only interested in beautiful things, appearance and women. He never got out of Andalusia, but decided to leave his hometown because of Amaya, a young girl from Basque, which, unlike the other women he had met, resists his seductive techniques. Therefore, despite the advice of a friend who had foreseen failure, decides to travel to their chosen place in the heart of the country Basque order is convinced that she is the love of his life and that he was the right man for her. The whole series of misunderstandings forced the young Andalusians to pretend that the Basque using eight names, and each time it becomes closer to the personality that will achieve his goal. That helps him and compatriot Ana who long ago got married in the Basque Country and widowed. There is also Amajin father, a fisherman who hates everything that is outside of his native land, but accepts his future son.
Thus, neither the Basques so arrogant and proud, or Andalusians so relaxed and superficial... although the film is full misunderstandings, prejudices, gossip, caricature customs north and south, so distant and yet in many ways similar.
This hilarious comedy has made a real mess at the box office throughout Spain and beat all previous box office records.
imdb.com
Movie and co
Film factory entertainment