Redemption street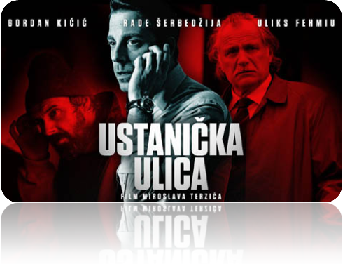 Premiers: March 13th 2012. Sava center
Start: Narch 15th 2012.
Director: Miroslav Terzic
Written by : Djordje Milosavljevic, Nikola Pejakovic
Collaborator on the script: Filip Svarm
Cast: Gordan Kicic, Rade Serbedzija, Uliks Fehmiu, Jelena Djokic, Milica Mihajlovic, Predrag Ejdus, Petar Bozovic, Bojan Zirovic, Aleksandar Djurica, Miki Krstovic, Marko Janjic, Marko Bacovic
Production: Filmkombajn
Genre: triler
Running time : 98 min.
Synopsis
Young prosecutor Dusan (Gordan Kicic) gets a case that must be kept in utmost secrecy.
The seemingly closed and nearly obsolete item that gives him, his boss (Rade Serbedzija) fundamentally changed his life. No witnesses and evidence is incomplete.
Dusan was determined and persistent in the pursuit of truth. Traces are becoming clearer and the important secrets are disclosed in many years.
Totally random, but a fateful encounter, leads him to a man who has long been hiding under a false name (Uliks Fehmiu). However, Dusan also recognizes that he can not belive to anyone. Behind each door hides a new secret, and the closest associates, headed by the chief, became suspicious and apparently involved in the matter.