The path strewn with roses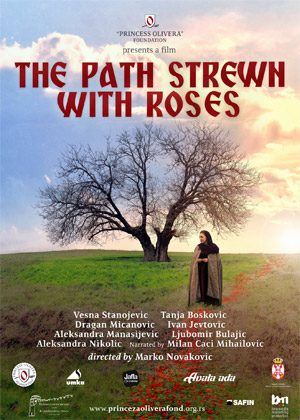 Film premiere: 28.09.2013.
Cinema opening: 30.09.2013.
Duration: 54 min
Distributor: Delius film
Synopsis
The film unfolds the life story of Princess Olivera Lazarevic, the youngest daughter of Prince Lazar and Princess Milica, who was, following the Kosovo Battle, sent off as token of peace to the Harem of Sultan Bayezit I. Princess Olivera was escorted, from her birthtown Krusevac, to the harem of Sultan Bayezid I, who had executed her father, on a path which the Serbian people had strewn with roses. The film «Path Strewn With Roses» enlivens this, insufficiently explored and somewhat forgotten, part of Serbian Medieval history. The story of Princess Olivera's destiny was invariably interwoven with the story of her parents Knez Lazar and Kneginja Milica, her brother Despot Stefan, sister Jela Balsic, nephew Djuradj Brankovic...
Throughout her life, Princess Olivera supported and helped Serbia, where she was able to return and where she was a faithful companion, adviser, adherent and consoler to her brother Despot Stefan.
The film features Vesna Stanojevic as Princess Olivera, Tanja Boskovic as Princess Milica, Dragan Micanovic as Prince Stefan, and Ivan Jevtovic in the role of Sultan Bayezit I. The young Princess Olivera and Prince Stefan are played by Aleksandra Manasijevic and Ljubomir Bulajic. This spectacular filmic story is mesmerizingly narrated by Milan Caci Mihailovic.
The screenplay, based on the «Princess Olivera, Forgotten Serbian Heroine» monograph, was written by Olivera Saranovic and dramaturgically framed by Natasa Drakulic. The film was directed by Marko Novakovic. The music was written by Svetislav Bozic, based on the Milos Crnjanski poem «Serbia».
The creators of the film used a vast selection of archives and museum showpieces, and it was shot on numerous, authentic locations across Serbia (Belgrade fortress, Ruzica Church, Princess Ljubica's quarters, Orthodox Church, Lazarica Church, the ruins of Lazar's city in Krusevac, the Semederevo fortress, the Bac fortress, as well as in Manasija, Studenica and Ravanica monasteries).
The film was made with the blessing of His Holiness Serbian Patriarch Irenaeus.