Kikoriki: Deja vu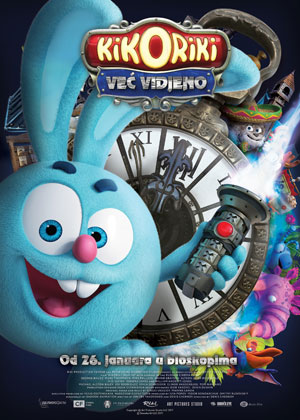 Original title: Kikoriki. Deja Vu
The beginning of the screening of the film: 26.01.2023.
Duration of the film: 85 min
Country/Year: RUS/2018
Genre: animated, adventure, comedy
Director: Denis Chernov
Distributors: DEXIN FILM and DELIUS FILM
Serbian dubbing: Zoran Stojić, director
Cast: Nemanja Živković, Predrag Damnjanović, Branislav Platiša, Slađana Letinčić, Ana Mirović, Mirko Jokić, Ognjen Drenjanin, Jovana Jelovac, Miomira Dragićević, Ivan Ivanov, Marko Dolaš, Milan Zoričić
Synopsis
The irresistible Kikoriki gang returns to us in the new, unforgettable family adventure "Kikoriki: Already Seen". Crash decides to throw his best friend Barry an unforgettable birthday party. He hires the "Deja vu" agency, which organizes exciting time travel adventures for its clients. During this incredible adventure, Crash's disregard for the rules will cause a cataclysmic accident, as a result of which his friends will be scattered in different centuries. In order to save his friends and bring them home safely, Crash must travel through the past and the future at lightning speed. Time is short, so he will have to seek help from his alter ego from another time.
SYNCHRONIZED IN SERBIAN!
Kikoriki Already seen in 2D and 3D format.