Foosball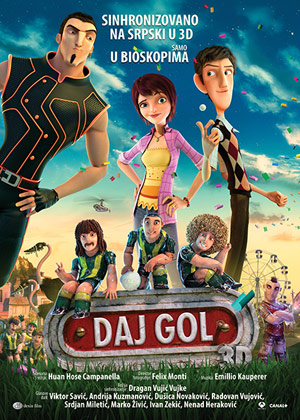 Director : Juan Jose Campanella
Screenplay: Juan Jose Campanella
Serbian voices: Viktor Savić, Andrija Kuzmanović, Dusica Novaković, Radovan Vujović, Srđan Miletić, Marko Zivić, Ivan Zekić, Nenad Heraković, Gojko Andrijašević, Jugoslava Drašković, Uros Atanacković
Genre: animated film
Start in Serbia: 01.11.2014.
Duration: 106 min
Synopsis
Andrew is a boy who has unusual friends and strange skills: he is the best player table football in the village!
There is not one challenger in the village where he lives, who managed to defeat him. But everything else in his life is not great as his accomplishments in fusbal. He's in love friend Dudu, but too shy to open her heart. So just limps along in his remote village.
Then one day, Andrew's habitual life twists with the return of 'the Great', a guy his age who has returned to take revenge for the match, which he lost to him ten years ago .. Despite the fame and fortune that has gained worldwide as the best soccer player in the world Vića decided to ruin Andrew destroyed a coffee shop where she works, and its tables Zaštone football to win Duda's favor, and even to turn the village into a theme park 'Ice' and the stadium.
In the midst of the destruction of the village desi something amazing: the figures on Andrew 'beloved, broken table foosball become live! They have a soul, range, and what is most important. play football. They decided to return to Andrija world that is lost and moving into a fantastic adventure that transforms it from an opponent in best friends.