Artilero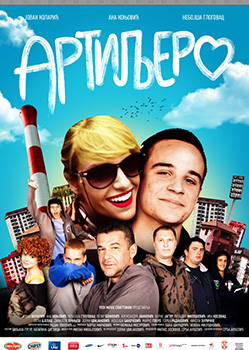 Premiere: October 31st 2012. Sava center
Start: Novembar 1st 2012.
Directed by: Srdjan Andjelic
Written by: Srdjan Andjelic
Cast: Nebojsa Glogovac, Jovan Kolaric, Ana Konjevic, Iva Kosovac, Petar Bozovic, Boris Jager, Zoran Cvijanovic, Nikola Djuricko, Boris Milivojevic, Aleksandra Jankovic, Nebojsa Bakocevic,Vujadin Milosevic, Marko Gvero and others
Produced: Yodi
Genre: drama
Running time: 98 min
Web: http://www.imdb.com/title/tt2082185/
Synopsis
Mali grew up with stories about the successes of the Red Star, and he had never tasted the joy of a great victory. It lacks some of whom would saw.
Mali meets Ana, the special girl, with sparkling eyes. Ana of the life expected significant event, but everything always turns into a routine. For the event is responsible Mali. Mali says Ana in confidence, about comeback football player, Nemanja Vidic in the club Red Star. For Ana everything seems naive, but step by step, the following issues is stopped and she is followed passion of her boyfriend. Similarly behaves and the environment.
Cynicism fades and suddenly everyone believes that everything is possible. Older brother, former leader of the fans and the neighborhood and stands also belive in miracles... Ana records all with cell phone and forcing a happy ending.