You go, i will not!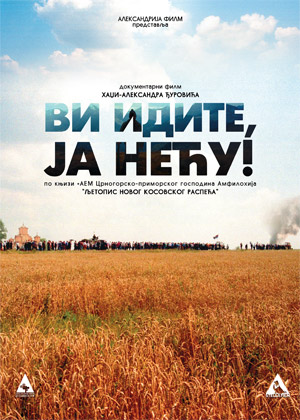 Cameraman, screenwriter, editor, composer, director : Hadzi - Aleksandar Djurovic
Participants: His Holiness Serbian Patriarch Irinej, Metropolitan Amfilohije, Bishop Teodosije, Bishop Joanijkije,Bishop David, The prioress of the Pec Patriarchate mother Fevronija, Archpriest Stavrophor Radomir Nikcevic, Archpriest Stavrophor Miljko Koricanin, priest Petar Cerovic, and Djurdjina Cirkovic.
Music: Svetlana Stevic, minstrel Bosko Vujacic
Genre: documentary
Year: 2015.
Production:Alekxandria film
Duration: 94 min
Distribution: Stella Film / Delius film
Synopsis
You go, I will not!" a feature documentary based on the book "The Chronicles of new Kosovo Crucifixion" Metropolitan Amfilohije, who reveals the untold truth about Kosovo-Metohija suffering of Serbian people, its religious and cultural heritage through history, especially in 1998 and 1999, with a view the family drama missing Milos Cirkovic.