The Light of Silence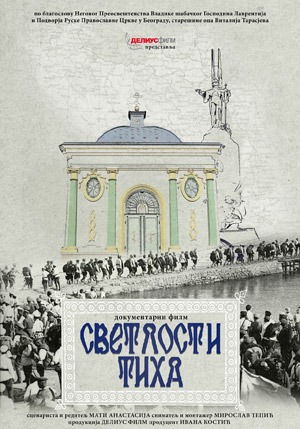 Screenwriter and director: Mother Anastasia Nović
Photographer and editor: Miroslav Tepić
Mastering the film: Zoran Jovković
Producer: Ivana Kostić
Production: Delius film
Sinopsis
Documentary about "The Light of Silence" is a story about the Old Russian Cemetery in Belgrade and the emigrants who came to Belgrade after the October Revolution. The motive for filming this film is a story about a nation that has its own graveyard in the territory of another state. This means that this nation has left a great mark on all aspects of the life of the people on whose soil it is. Did Serbia give refuge to Russian refugees, but they gave their enormous knowledge, culture and wealth to the Serbian people, appeared in Belgrade. Some of the most important buildings such as the complex on Oplenac, the government buildings, Zejtlnik ..... were designed by the famous Russian architect Nikolai Krasnov and left to Belgrade and Serbia. The ancient Russian cemetery rests on the great names of Russian culture and science, and even the Metropolitan Antony Hrapovsky himself.
The film's conception is in personal testimonies, as well as in the film record at the cemetery itself, the church chapel and the memorial costume to Russian soldiers from the First World War at the New Cemetery in Belgrade.
The duration of the movie is 80 minutes.