Mamarosh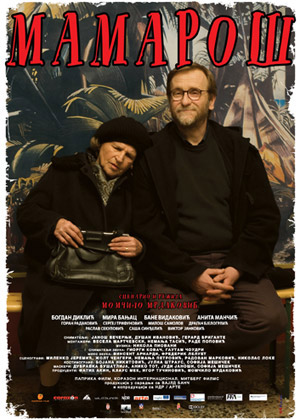 Screenwriter and Director: Momčilo Mrdaković
Cast: Bogdan Diklić, Mira Banjac, Bane Vidaković, Anita Mančić, Sergej Trifunović, Goran Radaković, Dragan Bjelogrlić
Type: comedy, drama
Producing countries: Serbia, Germany and Hungary, 2013
Time: 105 min at 24 fps
Festivals: - 35th Moscow International Film Festival - main competition,
- 42nd Sopot Film Festival,
- 37th Vrnjacka Banja Film Screenplay Festival,
- 48th Nis Actors Film Festival,
- 06th Novi Sad International Film Festival,
- 05th Leskovac Film Directing Festival,
- 02nd Tuzla South Slavic Film Festival,
- 11th Leposavic International Film Festival,
- 28th The Fort Lauderdale International Film Festival,
- 11th Tula International Festival of War Film,
- 23rd Cottbus International Film Festival
Awards: - 37th Vrnjacka Banja Film Screenplay Festival - Audience Award,
- 05th Leskovac Film Directing Festival - Director's Award,
- 11th Tula International Festival of War Films - Best Screenplay.
Synopsis
Dreamy, middle-age guy Pera is a film projectionist and still lives with his mother Mara in Belgrade. Pera is also film aficionado and quite content to be in his mother company. NATO's 1999 bombing of Serbia starts and two of them become refugees. After quite surreal journey they end up in New York, of all places. That is were Pera realizes that he cannot do his old job anymore, one he loves so much. While he and his mother were trying to survive, the new age of cinema digital projection started. Some discarded projectors gave Pera an idea.
imdb.com