Family united (La gran familia Espanola)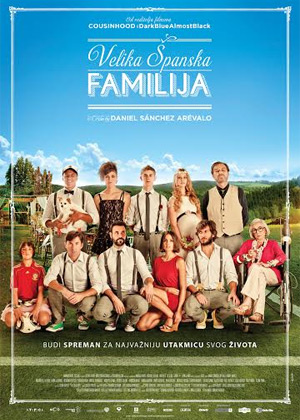 Director and screenplay: Daniel Sanchez Arevalo
Cast: Antonio de la Torre, Quim Gutierrez, Veronica Echegui, Robertto Alamo, Miguel Fernandez
Genre: comedy, drama
Start: 05.06.2014.
Duration: 101 min
Distribution: Dexin film
Synopsis
Get ready for the most important match of your life!
The awarded director Daniel Sanchez Arevalo is exploring family relations and secrets in this new family drama. Efraim, the youngest of five brothers with biblical names, asked his ten year old schoolfriend to marry him, when they both fulfil 18 years.
Eight years later they could not imagine that on their wedding day Spain is playing the final match of the Football Cup. Efraim's family is gathering for wedding and, while the whole country is focused on the football game, each member of the family will play his personal little match trying to accept what he is and from where he is coming.
"Family united" is Arevalo's fourth movie released in Spain last September. According to his words this is a story of meeting, separating and reunion of the family and all this happens in one day.
Awards: Two Goya awards (counterpart of Oscar)
imdb.com
Hollywood reporter
Film affinity