Princess Late and the magic water stone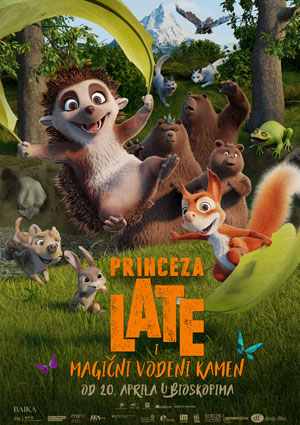 Dubbing director: Zoran Stojić
Duration of the film: 82 min
DUBBED IN SERBIAN
Distributors: Delius film and Dexin film
Cast: Sofia Trifunović, Mia Trifunović, Predrag Damnjanović, Jugoslava Drašković, Jovana Cavnić, Sandra Janković, Branislav Platiša, Alek Rodić, Mirko Jokić, Miomira Dragićević, Strahinja Bajčeta, Suzana Floran, Jana Micić, Milica Todorović, Lara Petrović, Đurđa Rakčević, Sara Šutanovac
Synopsis
The recent drought has forced the forest party to conserve water more carefully than usual. The only way for the forest to get water again is to return the magical water stone that was stolen by the Bear King. Princess Lata, our main character, takes on this responsibility. Despite the obstacles, Princess Lata refuses to go back without what she came for, and that persistence and courage Princess Lata leads to various events.
SYNCHRONIZED IN SERBIAN!
Kikoriki Already seen in 2D and 3D format.